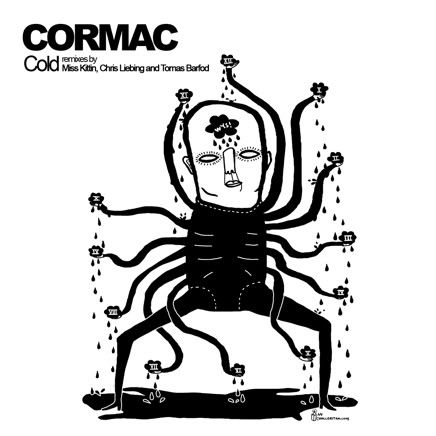 WYS004
Cormac - Cold1. Cold (On The Floor Edit)
2. Cold (Miss Kittin Hot Remix)
3. Cold (Chris Liebing Remix)
4. Cold (Tomas Barfod Remix)
5. Cold (Jacob Husley and Peter Pixzel Remix)
6. Cold (In The Ground Edit) Digital Bonus Track
7. Invert
We are pleased to announce the 4th release on the rapidly developing WetYourSelf Recordings...
Cormac
is part of the trio behind the phenomenon that is WetYourSelf at fabric, and the newly-formed WYS! Recordings. His debut release on the label sees him explore the tougher, more techno side of WYS!, taking inspiration from the mammoth Bank Holiday Room 2 sets from the likes of Marcel Dettman and Ben Klock.
With its icy vocal, Cold (On The Floor Remix) has a firm foot in fabric's room 2 and captures the tough drive of techno from Cormac's past and draws it to present times at a sexy 122 bpm.
The extensive remix package draws in an eclectic and exciting selection of WYS! club guests.
Miss Kittin
has shaped and changed the sound of dance music culture since her debut with the Hacker back in 2001. She is a true original, technically gifted and consistently remains on top of her game. Using old school claps and kicks she transports the tune into her world of midnight rave.
Chris Liebing
is notable for many reasons. He has risen to the leagues of techno royalty and maintained his position there with his quality CLR label and unique techno sound. Here he runs with the theme of the title track and creates a stone-cold peak-time killer which is unmistakably and fantastically Liebing in every sense.
Tomas Barfod
is one of the most important figures in the Danish club scene. He is notable for his solo work and as a drummer / producer in the band Whomadewho, and has released as Tomboy on labels like Get Physical, Kitsuné, Gomma and Turbo. On this release he creates an acid-tinged dancefloor buckler that works powerfully as a grinding floor energiser.
Jacob Husley and Peter Pixzel
pull out all the stops with a warm and welcoming tech-house roller, which fully represents an integral element of the WYS! soundscape and completes the sound circle.
Included on the digital release is an exclusive reworking of the title track, resulting in the Cormac in the ground mix. The track is designed as an intro to the softer more album-orientated side of Cormac's sound and draws on inspiration from his love of the ambient.
Included on the vinyl release is a vinyl only track, Invert. Invert was made in unison with Cold, coexisting and fully reflecting each other. It accompanies the Miss Kittin Hot mix and Chris Liebing on a limited release 12" available at Phonica Records and Black Market Music.
Ellen Allien – "yes very nice the orginal ...my fave remixes are from jacob + peter and tomas barfod / will play them thank you"

Troy Pierce – "on the floor edit is dirty and awesome and awesomely dirt filled. bomb!"

Pig & Dan – "love the twisted vocals guys and the variety of mixes in this release, full support"

Clement Meyer – "chris liebing and miss kittin remix are my fav, killer tracks for big rooms"
Buy Now:
Beatport
/
What People Play
/
Phonica