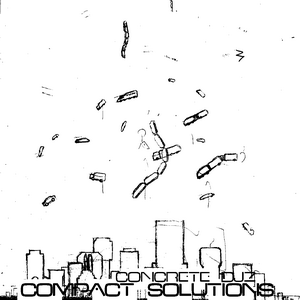 Compact Solutions (Incl. Mike Humphries, Lorino, C-System)
"Following their impressive back catalogue, Concrete Djz unleash yet another fine piece of club techno workout.
A track that keeps the driving side of their sound, with lots of energy and punchy clean production."
"Lorino rework comes as a clean modernistic sound of dark scapey techno, offering punchy feel and crisp hi hats
which work great with the dirty synth rework of the original."
"Mike Humphries steps in with his trademark groove and fine baselines mingling with 909 works. Good percussion
work for a bouncing and colourful floorburner."
"Spain's C-System interpretation is pure old school bliss. Lots of ever loving claps and a hypnotic synth
treatment that rolls out on filter."
1. Compact Solutions – Original
2. Compact Solutions – Lorino Remix
3. Compact Solutions – Mike Humphries Remix
4. Compact Solutions – C-System Remix
Previews / Buy
Hi-Q Previews
Shop
FeedbacksDRUMCOMPLEX
"Really love it, straight for the floor, full support."
MATTIAS FRIDELL
"Sounds good! Especially the original and Mike's remix."
LUIS RUIZ
"I like the original."
AUDIO INJECTION
"I really like 'Compact Solutions' original."
SCALAMERIYA
"Humphries and C-System remixes rock. Thanks for sending!"
MATT K
"These are great! On point."
A. BROTHERS
"Great ep, full support!!"
P.GOD
"Original & C-System Remix, good work as always."
MICHAEL SCHWARZ
"Original and Mike Humphries Remix for me... Will definitely play it."
GABEEN
"Great tracks, full support."
MR.JONES
"I love this release!! Original and Mike Humphries remix."
DJ OGI
"Really liking whole release, good job."
Previews / Buy
Hi-Q Previews
Shop