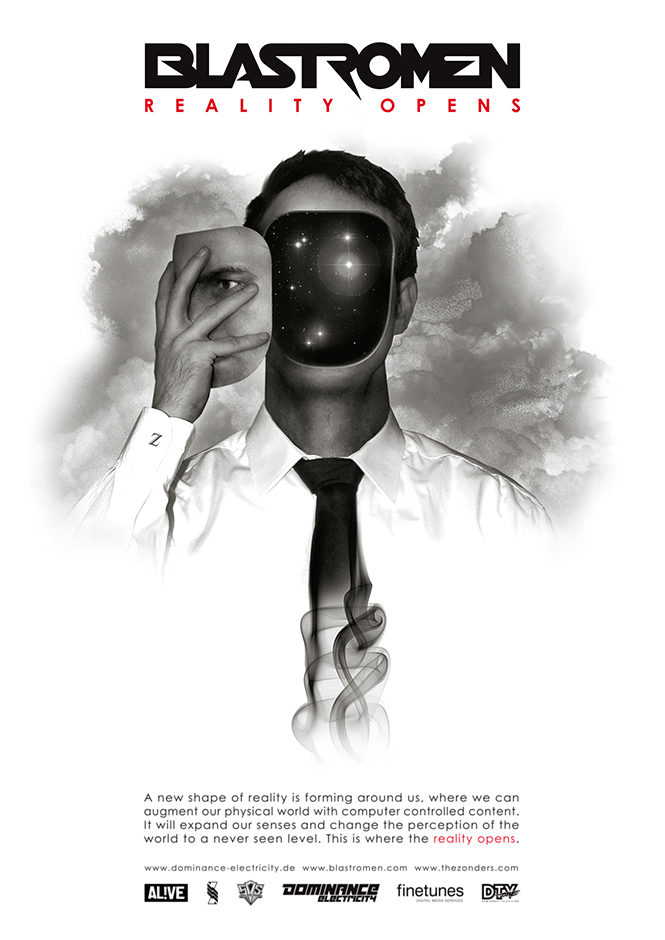 BLASTROMEN
"
REALITY OPENS
" (Dominance Electricity, DE-020)
[02:28]
Reality Opens
[06:07]
Vision Control
[06:53]
Infiltrator Unit
[07:16]
Sidtroen
[06:08]
Sense Of Ears
[06:28]
Glacier Planet
[06:10]
Transportation Nonstop
[07:44]
Lost Dissents
Finland's otherworldly Electro lords Blastromen return to the Dominance Electricity
mothership to deliver their much anticipated second longplayer.
The eight new compositions featured on "Reality Opens" continue where their debut
album "Human Beyond" left off in the year 2010 and lead straight to the next level.
Sophisticated arangements with epic synth melodies and atmospheres, haunting
Electro breakbeats and elaborate vocoderized lyrics prove once again that Blastromen
are a class of their own.
Packaged in surrealistic artwork by The Zonders, the album is available
on all digital platforms as well as Digipak CD, black double 12 inch vinyl and
premium edition transparent clear double vinyl inluding a super-size poster.
ALBUM MEDLEY MIX
:
http://soundcloud.com/dominance-electri ... lity-opens
★ 2x12" CLEAR
vinyl
+ super-size
Poster
★
CD
(hi-quality pressed, Digipak) + super-size
Poster
available from
http://www.saveoursounds.net/
★
MP3
s/
WAV
s available via iTunes, Beatport, Juno, Amazon etc.
Direct MP3 shop links:
http://mp3s.dominance-records.de/